About Us
The idea of Metal Saints came to light during the midst of a global pandemic in 2020. While some were more affected than others, we were all experiencing a whirlwind of unknowns and doing our best to just make it through. 
At the time, my personal life had so many new experiences, both rewarding and heartbreaking thrown at me. At the beginning of the year, I was told I was being let go from my job in tech. Though I had been planning on leaving, there was a significant experience of grief with being told you were no longer needed. 
As the year went on, I stepped more into my calling surrounding fitness, lifting, and bodybuilding. I started prep for a bodybuilding show, but I was also doing my best to be there for my family as my aunt fought a tenacious fight with pancreatic cancer. 
As the sickness worsened, she moved to my parent's home and in the evenings, when I would visit, we would sit and watch the beautiful sunsets and she'd ask me about my future and what plans I had for it. 
Time and time again, I'd mutter to her my dreams of wanting to own my own business, to do something in the creative realm but also have the ability to interact with people as I feel interactions and people and our general community have a significant impact on this experience we call life. 
We'd go back and forth about grad school and other traditional routes, but discovered where my calling had always been as it combined the three things I felt most strongly drawn to - creativity, a means of connecting with people, and fitness all communicated via the best means of self expression: fashion.
As the year went on, my aunt's condition worsened and in the late part of July, we watched her slip away. 
I continued on with my prep, getting into a very consistent routine of wake, cardio, eat, train, sleep. Just as with any prep, my communication with those nearest me worsened and I did my best to process the loss of someone who had always been so present in my life.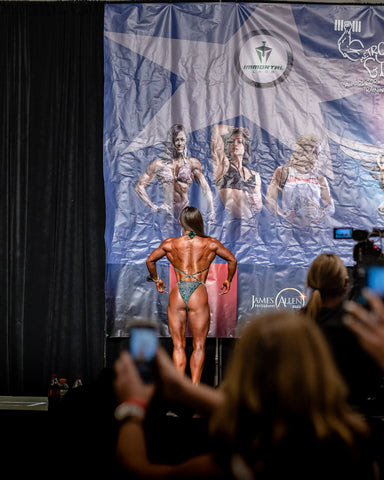 (I competed in my show & kicked ass)
As time passed, my conversations with my aunt would come back to me. I would spend my cardio hours thinking about designs that would provide me as an athlete with the support and comfort I was seeking, but something unique that would be a means of some self expression in a sport and industry that was so clouded with what felt like the same look done over and over again.
And thus, our first design was born. The St. Marie Crop Top - named in honor of my sweet aunt. This one shouldered beauty was born to make you feel empowered to conquer whatever feat may lie ahead, both physical and otherwise just as my aunt did for me. 
Our mission is to deliver a culture and product for the people who march to their own drum. We aim to empower the ambitious athletes to express themselves while doing what they are passionate about.
Our brand promise is to produce badass athletic wear items that enable you to perform at a high level in whatever discipline that sets your soul on fire.